Race Report: Castle Combe, 30 August 1971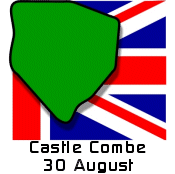 This was the third race in three days for the F3 runners so it wasn't surprising that there wasn't a huge entry for this Lombank round at Castle Combe but there was quality if not quantity in the entry.
Pole position went to the Merlyn Mk21 of Jody Scheckter with the March 713M of Brendan McInerney and the Brabham BT35 of Colin Vandervell completing the front row.
There was torrential rain falling as the cars lined up on the grid and with both McInerney and Scheckter making slow starts it was Vandervell that took the lead from Andy Sutcliffe's Lotus 69.
Unfortunately for Sutcliffe his good start was ruined when his clutch failed on lap two and he had to retire, also out was Williamson who spun round the back of the circuit with a puncture that forced him to retire. Lap 7 saw the leader spin as Vandervell had to take avoiding action on the Dean Straight when he came upon the spinning March 713M of Lee Kaye, Vandervell resumed in second place behind Alan Jones.
Jones continued to keep out of trouble and at the end of fifteen laps took the win from Vandervell and a recovering Scheckter. Purley took fourth place on the last lap from Bisignano with Ray Mallock coming home sixth, the U2 using Formula Ford wheels and Firestone Torinos.
Race Report: Castle Combe, 30 August 1971