Race Report: Silverstone, 28 September 1975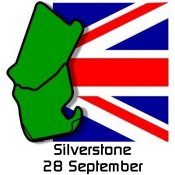 Practice for round 17 of the BP Championship was a complete lottery, held on Saturday morning it started wet and only began to dry in the last five minutes so grid times were very much a case of if and when you fitted slicks. It was Gunnar Nilsson who timed his tyre change to perfection and set a time over two seconds quicker than the next man who was Graham Hamilton who had to change to slicks when he had a puncture on his wets and it turned out to be just the right time. Third fastest another two seconds slower was Belgian Pierre Dieudonné ahead of Larry Perkins and Alex Ribeiro. Patrick Neve was unusually far back as a result of a broken differential (which might have caused his Brands Hatch practice shunt) and Richard Hawkins who didn't officially qualify as a brake pipe broke after just two laps. Sitting right at the back was the new Anson of Garry Anderson who had a 10 second and 10 yards penalty for qualifying out of session, he missed the practice proper as the car was having a 2-litre Holbay twin-cam fitted.
Fortunately it was bright and sunny for the race but it wasn't too bright for Hamilton when a connection on his fuel pump came off on the warm up lap and it couldn't be sorted in time to make the grid. Also in difficulties was Bob Arnott when a screw came out of his coil, this could be repaired but he started after everybody else.
Larry Perkins took full advantage of the space left by the missing Hamilton and he rocketed his Ralt through from the second row and into the lead. He wasn't the only one as Alex Ribeiro and Terry Perkins followed him, their cause was helped by Nilsson getting away a little slowly. Nilsson had decided that tyre wear was likely to be an issue so he had set his car up with minimum downforce to be quick down the straight and he decided not to push too hard in the early laps.
At the end of a hairy first lap it was the Perkins brothers in front followed by Ribeiro, Dieudonné, Nilsson, Regout, Neve (following an amazing first lap), Danny Sullivan, Eddie Cheever, Richard Hawkins, Rupert Keegan and the rest of the field. Next lap and it was Ribeiro up to second and Neve had pushed Regout down a place. Lap 3 and Ribeiro was now up to first with Larry Perkins down to second whilst brother Terry spun off at Club slightly damaging the nosecone of his Ralt. Danny Sullivan pulled into the pits at the end of the lap with a bad misfire, his team changed the plugs and leaned off the mixture on his Toyota. For a few laps it looked as if Ribeiro might edge away from Larry Perkins but the Ralt soon reeled the March in again, next there was a slight gap back to a battling Dieudonné and Nilsson. Neve was in fifth ahead of Regout, Cheever, Keegan, Hawkins, Stephen South and Chris Barnett.
Perkins began to apply pressure to Ribeiro and within a couple of laps he was through and he began to pull away. At the same time Nilsson got past Dieudonné and he began to reel in Ribeiro and on lap 8 he was up to third as the Brazilian began to fall back as his tyres started to grain. Nilsson was battling with Ribeiro and the B&O cars of Regout and Dieudonné but he gradually left them behind and Neve moved up to challenge them. Cheever was next up and dropping away as he too suffered from graining tyres, Hawkins was chasing the Modus followed by Keegan and Barnett. Stephen South had had a quick spin at the chicane but was now closing in again on Barnett as was Arnott who had also spun at Copse.
Larry Perkins had opened out quite a big gap to Nilsson but the Swede was going well and Regout had tagged onto his tail, both Marches seeming to be very quick in a straight line. Lap 14 and 15 saw the second and third place Marches dramatically close the gap on Perkins who was the latest victim of tyre problems, Perkins tried to speed up which resulted in some very sideways motoring. Nilsson was now sitting on Perkins tail and he slipstreamed the Ralt down to Stowe, the March dived out at the last moment and took the lead, Nilsson was slow out of the corner with his low downforce and Perkins had to momentarily slow to avoid contact and as he accelerated away the Swede had opened out an immediate gap.
Perkins tried to hang onto Nilsson but the straight line speed advantage of the March gave it the edge over the Ralt. Entering the last lap Regout decided to try and improve on his third place and he tried to slipstream Perkins into Stowe but it all went wrong and the B&O March spun off and hit the barrier. Nilsson continued to hold his lead for the rest of the lap despite Perkins being right on his gearbox and the works March took the win by 0.4 seconds with Dieudonné moving up to finish third after his team mate's demise. Neve should have been next but a stone split a brake pipe on the Safir and the Belgian had a huge moment at Becketts which destroyed the nose on his car, Neve tried to continue but he had dropped too many places to score any points so he retired. Hawkins took fourth from Ribeiro and the fast closing March of South.
Race Report: Silverstone, 28 September 1975