Race Report: Oulton Park, 28 September 1974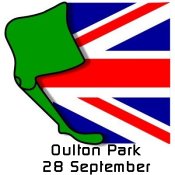 It was Brian Henton, back in his familiar 743, who took pole position for this Lombard North Central round, his March benefiting from a lightened Pinto engine fitted with a revised camshaft. Henton shared the front row with his main rival this year, Tony Rouff and Brazilian coming man Alex Ribeiro. A welcome sight on row two was Sweden's Conny Andersson who had taken out a British licence to compete in the last remaining races of the year. Jose Chateaubriand was trying a Novamotor Toyota in his works March 743 for this weekend instead of his usual Holbay Pinto. For this race the F3 had to contend with the FF2000 cars who were added to augment the grid.
It was raining as the cars lined up on the grid and everyone opted for wet tyres. Rouff made the best start to lead Henton who found his rev counter not functioning and was trying to change gear by ear. Just as Henton was about to give up as he found the noise of Rouff's engine drowning out his Pinto the American locked his brakes at Lodge and spun. With nobody in front of him Henton quickly opened out a gap on the new second place man, Conny Andersson. Next up it was Alex Ribeiro from Nick von Preussen, Jose Chateaubriand and Mike Tyrrell.
This was Andersson's first wet race of the year and being a little rusty on lap 4 he was passed by Ribeiro, von Preussen and Chateaubriand, the Swede now began a battle with Tyrrell and the recovering Rouff. Lap 5 saw Chateaubriand pass von Preussen and on the following lap von Preussen spun at Esso resuming in seventh.
Chateaubriand demoted Ribeiro on lap 7 and eased out a small gap although he seemed unable to do anything about Henton in the lead. Tyrrell finally got past Andersson but promptly went off and hit the sleepers at Old Hall, Andersson and Rouff then began to close in on Ribeiro but there wasn't enough time to do anything about the GRD in third. So at the finish it was Henton who took the win and also secured the Lombard North Central Championship, team mate Chateaubriand in second closed a little on Henton at the finish but Superhen had it all in hand.
Of the other runners Ivor Goodwin spun his Modus off at Lodge on lap 1, unfortunately Peter Dugdale did the same thing on the last lap in his March hitting the abandoned Modus, neither driver was injured.
Race Report: Oulton Park, 28 September 1974