Race Report: Casale, 31 March 1974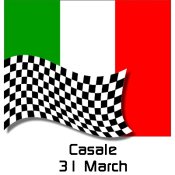 This was the first round of the Italian F3 Championship and was held over two heats and a final and the field was largely national runners with the exception of Sweden's Conny Andersson and the Uruguayan Pedro Passadore. It is probable that many of the runners were still using 1600 cc engines.
Pedro Passadore won the first heat ahead of Alessandro Pessenti-Rossi, Passadore's GRD was using the new Toyota Novamotor twin cam engine. Heat 2 went to Sandro Cinotti's March, another user of the Toyota Novamotor, Luciano Pavesi took second in his Brabham. It was a Toyota 1-2 in the final with Passadore leading Cinotti home, Giorgio Francia's March finished third.
Conny Andersson had an unhappy weekend retiring from both his heat and the final with gearbox problems.
Race Report: Casale, 31 March 1974