Race Report: Silverstone, 26 August 1974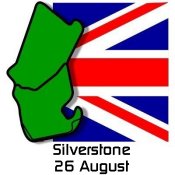 This Lombard North Central round took place on the day after the race at Mallory Park, despite this there was a reasonable entry with several new names making an appearance.
It rained just before the race but by the time the cars formed up on the grid it was dry again and everyone fitted slicks for the race. It was Brian Henton who made a great start from row two to lead the other cars into Copse and his cause was helped by the GRD 374s of Alex Ribeiro and Marcos Moraes coming together in the corner and delaying a number of cars. It was Tony Rouff who took second place ahead of Nick von Preussen in third whilst the curse of pole man Mike Tyrrell struck again as the March driver spun down to the back of the field at Maggott's. Dick Parson's took advantage of the other cars spinning to slot into fourth at the end of the first lap in his Smiths Crisps Ensign.
The first four remained unchanged until lap 10 when Parsons retired and von Preussen had to pit with his engine making strange noises, some adjustments were made and he continued to finish sixth. Leader Henton continued to be untroubled and he took the flag 2.8 seconds ahead of Rouff with Ribeiro in third. Fourth went to Brazilian newcomer Marivaldo Fernandez who was having an outing in "Teleco's" March 733, he had raced F3 before in the 1970 1-litre Temporada series where he had handled a works Lotus. Marcos Moraes was black flagged when the bodywork on his GRD was rubbing against a tyre with the ensuing risk of a puncture.
Race Report: Silverstone, 26 August 1974