Race Report: Brands Hatch, 29 July 1973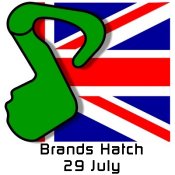 An excellent entry of 51 cars arrived at Brands Hatch for the latest round of the John Player Championship and with no clashing French round most of the top runners from France arrived to take on the best of the English. The drivers were split into three heats with 45 minutes of practice per heat on Sunday morning, Heat 1 was delayed when the unfortunate Rudolf Dötsch had a heavy shunt with his GRD at Kidney when he missed a gear and he was taken to hospital with a broken leg.
Heat 1 was dominated by the French visitors with four of the first five places on the grid, Bernard Beguin's Ecurie Volant Shell Martini taking pole position by 0.1 seconds from the Kent Messenger GRD of Tony Brise, completing the front row was the BP France Martini of Jacques Lafitte.
Heat 2 saw surprise package Hakan Dahlqvist take fastest time in his Merlyn from the March of Mo Harness which equalled Dahlqvist's time, Alan Jones was third fastest his GRD 0.2 seconds further back. Brian Henton was a non-starter when he wrote his GRD off with a big shunt at Paddock.
It was the French again who dominated Heat 3 with Alain Serpaggi setting the quickest time of all three heats to plant his Alpine on pole ahead of the Motul La Defense Mondial Martini of Christian Ethuin and the Ecurie ELF March of Alain Cudini. Johnny Gerber non-started when he slid off at Druids and damaged a front corner of his Brabham beyond immediate repair.
Tony Brise launched his March into an immediate lead as pole-sitter Beguin was slowed by a sticking throttle pedal that refused to free itself until the second lap. Leclere's Alpine moved into second ahead of Lafitte's Martini with Friedrich assuming fourth spot. Leclere's second spot only lasted to Clearways on the third lap when fuel pressure problems intervened dropping the Alpine to ninth by the flag. Despite Lafitte's best efforts Brise held on to the lead to beat the Martini by exactly one second after the ten laps, Friedrich took third after a tense race-long battle with Rousselot beating the Frenchman to the line by 0.2 seconds. Beguin took sixth behind Albera's Antar March after getting ahead of Spitzley on the eighth lap.
Mo Harness repeated Brise's flag to flag victory in Heat 2, Lella Lombardi initially holding second spot in her Brabham until she was passed by Alan Jones at Paddock on lap 3. Jones then set off after Harness catching the March on lap 7, the GRD tried hard to pass the March making a last big effort at Clearways on the final lap, but Harness refused to be rattled and won the heat by 0.4 seconds. The next three cars finished almost together with Lombardi just holding off Dahlqvist and Ragnotti with Jean Max only half a second further back. Masami Kuwashima had been holding fourth when his March and the Martini of Jean-Pierre Paoli made contact at Druids putting both cars out of the race.
Russell Wood elected to start from the back of the grid for Heat 3 when he found his March minus first and second gears on the warm up lap. Christian Ethuin made the best start to take the lead in his Martini hotly pursued by the similar car of Alain Cudini and Alain Serpaggi's Alpine. Serpaggi hounded Cudini for eight laps until he finally found a way past and he immediately closed in on Ethuin but in the remaining two laps was unable to do anything about the flying Martini. Conny Andersson kept the three leading Frenchmen in sight and took fourth just ahead of Pedro Passadore in fifth and Mike Wilds (who had been delayed at the start behind Serpaggi) in sixth. Randy Lewis would have qualified for the final in eighth but a one minute penalty for a jumped start saw him relegated down the final order. Retirements included Danny Sullivan on lap 1 with no gears and Russell Wood with a puncture, Buzz Buzaglo had to pit on lap 3 with a broken spark plug when well placed.
The final consisted of the fastest 20 cars overall and the grid lined up as follows:
Brise and Ethuin had recorded identical race times in their respective heats but as Brise had set his time first he was given pole position. As the flag fell Andersson made an unbelievable start from row three and as the cars entered Paddock the Swede took the lead and at the end of the first lap it was Andersson from Brise, Lafitte, Ethuin, Serpaggi, Harness, Passadore, Jones and Friedrich. Andersson's lead only lasted as far as Druids on lap 2 when Brise outbraked Andersson to take first place. Almost immediately Brise began to pull away from a four car group of Andersson, Lafitte, Ethuin and Serpaggi, all of whom had eyes on second. Mo Harness had dropped a couple of seconds behind this bunch with Alan Jones next up after having just passed Pedro Passadore.
Dahlqvist was out on lap 4 when his Merlyn hit the Paddock banking very hard removing a wheel. Passadore found himself going backwards when he was passed by Cudini on lap 4 and then Wilds on lap 6.
At 10 laps it was Brise then Andersson, Ethuin, Lafitte, Serpaggi, Harness, Cudini, Jones, Wilds, Rousselot and Passadore. Andersson was beginning to pull clear of the French trio behind and Harness was doing his level best to catch them. Lap 15 and Rousselot's oil tank split covering the track with oil which allowed the French to temporarily recatch Andersson but he then pulled away again. Cudini caught Harness and was trying for sixth when a moment around the back of the circuit dropped him behind the battling Jones and Wilds. Wilds demoted Jones on lap 25, the Australian finding his GRD suffering from a lack of traction.
Entering Clearway's on the last lap Ethuin's Martini shed a wheel which flew into the spectator enclosure smashing a car windscreen and narrowly missing a couple of spectators. Meanwhile at the front Brise took the chequered flag 3.6 seconds ahead of Andersson whilst Serpaggi pulled up alongside Lafitte at the line, they were given the same time but Lafitte took the third place. Harness finished just over half a second down in fifth with Mike Wilds taking the sixth place.
Race Report: Brands Hatch, 29 July 1973