Race Report: Castle Combe, 27 August 1973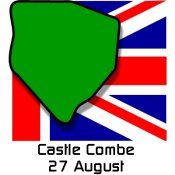 Only 6 cars arrived for this Forward Trust round due to the clashing Lombard North Central round at Silverstone so the grid was made up with Super Vee competitors. Ian Taylor made the best start from pole position in his Baty March to lead the similar cars of Matt Spitzley, Buzz Buzaglo and Mo Harness, Buzaglo quickly dealt with Spitzley and began to chase after the leader. By lap 5 Buzaglo had closed in to within striking distance of Taylor but his driving began to get a little ragged especially at Camp where he regularly dropped a wheel into the dirt, this coupled with lapped Super Vee cars delaying him meant that Taylor was able to take the win by 2 seconds. Spitzley dropped away from the two leaders but held onto third whilst Harness was never in the hunt with an engine that was sounding worse with each succeeding lap. Nicholas von Preussen had held fifth until he spun his March into retirement at Quarry on lap 4.
Ian Taylor's victory secured him the 1973 Forward Trust Championship.
Race Report: Castle Combe, 27 August 1973