Race Report: Oulton Park, 31 May 1971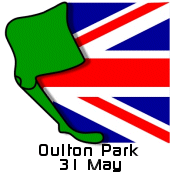 23 drivers arrived to contest the British Empire Trophy at Oulton Park from an original entry of 45, it was a two heat and a final format with the cars divided unevenly between the two heats due to the non-starters.
Dave Walker duly took pole position for the first heat by two tenths from Steve Thompson's Ensign which had been repaired after its Montlhery accident. Final front row starter was Colin Vandervell in his Brabham BT35 on its new Firestones, ahead of the similar car of Brendan McInerney. Fifth fastest was series newcomer Alan McCully in an ex-works Lotus 69, this was part of the three car Australian 
International Racing Organisation which was an odd title since McCully is a New Zealander! The other two members of the team were Alan Jones and Brian McGuire with their Brabham BT28s, all three cars were using Vegantune engines running on Weber carbs. Leading the next row of the grid was Ronald Rossi in his usual Brabham BT28 ahead of Tim Goss (March), Ulf Svensson, Rikki von Opel, Pierre-Francis Rousselot and Torsten Palm. Next up was Alan Jones who had only managed two laps before an oil pipe broke causing the Aussie to spin off at Island. Final runners were Richard Longman, Bernard Lagier and another new face, Keith St John in the ex Peter Hanson Chevron B17.
There were only eight cars in the second heat and fastest for this race was Bev Bond in the works Ensign, this week trying Dunlops. Setting the same time as Bond was the March of Roger Williamson and completing the front row was a very tender (after his Monaco practice accident) Barrie Maskell. The second row was headed by Chris Skeaping's Chevron and Brian McGuire's ex Tony Trimmer BT28. Bringing up the rear were Alan Joy, Chris O'Brien and final débutante Bengt Radmyr in a Lotus 59/69.
With a few minutes to go before the start of the first heat panic set in when a sudden heavy rain shower soaked the track, Thompson, Vandervell, McInerney, Svensson, Goss, Palm, Longman and St John switching to wets. With five minutes to go and the track beginning to dry Thompson put the Ensign back onto dry tyres. As the flag fell Walker took an immediate lead from Vandervell and Thompson, McCully, Svensson, McInerney and Goss. On a fast drying track Walker quickly pulled away whilst Vandervell was forced to hunt for wet patches to try an cool his tyres as Thompson passed him for second place. Vandervell was able to hold onto third place ahead of a hard charging von Opel who had dropped to ninth at the start but clawed his way back to fourth. Alan Jones spun on lap one at Lodge removing his nosecone and dropping to last but got up to twelfth by the finish.
The track had dried completely by the start of heat two, not that it helped Maskell who had to be pushed off the grid when his starter motor came unattached. Bond took an immediate lead from Williamson and and Skeaping. The Ensign led to the finish but it wasn't easy as Williamson was attacking him all round the track bur especially at Knickerbrook were he often got ahead only to drop back again at Lodge. Skeaping actually made it up to second for a few laps until fuel starvation caused his engine to cut out intermittently and he fell back again. So it was that Bond took the chequered flag only to find he had been penalised 1 minute for jumping the start which dropped him to fifth. Williamson inherited the win from Skeaping, Joy, O'Brien and Radmyr. Maskell managed to get out and do five laps to qualify for the final.
Williamson took pole position for the final due to the dry second heat being quicker than the damp first one but Walker who was beside him made no mistakes as the flag fell and jumped into an immediate lead. Walker was determined to try and build up as much of a lead as possible to avoid the potential threat of Bev Bond back on the fourth row and at the end of the first lap he was ahead of Williamson, Thompson, Skeaping and a fast starting Bond. Vandervell was already dropping back but was still ahead of McCully, McInerney, Rousselot, Rossi and Radmyr. Trailing well back were Maskell and Jones who had required push starts and Goss who had started a lap behind due to a fuel pump problem. On lap 2 Thompson got past Williamson who was now being threatened by Skeaping but it was Bond who was really flying and in the next three laps he dealt with all three cars and he was just 4 seconds behind Walker.
However having got up to second Bond seemed unable to close in on Walker and dropped further behind as he met backmarkers, he was also having to watch the sister Ensign of Thompson who was trying to get second place back. Thompson did get ahead briefly on lap 22 at Knickerbrook but it was all academic anyway as two laps later Bond retired with steam coming from the engine due to a blown head gasket.
Behind the leaders there was a battle royal going on between Vandervell, Rossi, McInerney, McCully, Radmyr, Rousselot, Svensson and von Opel who had made an awful start. Quickly joining this group was Barrie Maskell who carved his way through in great style, his only problem being Rossi who solved the problem by having a huge accident at Knickerbrook (without personal injury). Maskell concentrated on trying to close the gap to Skeaping whilst von Opel and Rousselot were having a great battle, behind them Vandervell was trying to get away from McInerney and Svensson.
Walker was finding it easy at the front extending his lead from a tiring Thompson, Williamson and a closing Skeaping. Sadly Maskell's great drive came to an end 10 laps from the finish when he had to stop for a new battery which dropped him to the tail of the field. At the finish Walker won by nearly 40 seconds from Thompson, Williamson, and Skeaping. von Opel just beat Rousselot to fifth ahead of a lapped Vandervell, Svensson, McCully and McInerney.
Race Report: Oulton Park, 31 May 1971