Race Report: Kirkistown, 24 July 1971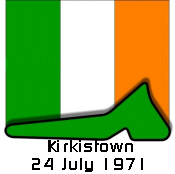 A large prize fund attracted 19 starters to this non-championship race across the Irish Sea, the race being held on a two heat format with the aggregate times deciding the results.
Brabham BT35s were handled by Colin Vandervell, Randy Lewis, Ulf Svensson, Jorgen Jonsson, Ingvar Petersson, Jan Persson, Lothar Schorg and Conny Anderson, whilst BT28 mounted were David Purley and Sonny Eade. Marches were in the hands of James Hunt and Brendan McInerney, Andy Sutcliffe had his Lotus 69 as did Bengt Radmyr and Geddes Yeates. Singleton entries were Steve Thompson's Ensign, José Dolhem (Martini MW7), Terrance Peterson (Chevron B17B) and Norman Moffett (Crosslé 17F).
Fastest in qualifying was Randy Lewis (Brabham BT35) from Conny Andersson also in a BT35, next up was the Lotus 69 of Andy Sutcliffe from the Brabham BT35 of Colin Vandervell.
It was raining heavily as the cars came out for the first heat and everybody put their wet tyres on, even so there were 9 spinners on the warm up lap! At the start Vandervell took an immediate lead from Andersson, Lewis, Sutcliffe and Purley, Dolhem was the only spinner this time. Sutcliffe moved up to second on lap 2 whilst Lewis, Radmyr and Moffett joined the spinners club. By lap 7 the field had become very strung out with Vandervell leading by 4 seconds from Hunt, Sutcliffe, Andersson and Svensson. Purley was next to spin and Hunt had a brief rotation at Fisherman's on lap 8 loosing a place to Sutcliffe although he soon regained it. Vandervell increased his lead further whilst Sutcliffe found himself demoted by Andersson and Svensson. By lap 20 the track was beginning to dry out but most of the action was over except for Sutcliffe loosing another place to McInerney but the Irishman was soon out when a rear wishbone failed at the Hairpin. At the finish Vandervell was victorious from Hunt, Svensson, Andersson, Sutcliffe and Thompson.
The cars lined up for heat two according to their heat one finishing positions and Vandervell jumped into an immediate lead on a now dry track. Everything was fine until the pack reached the Hairpin when there were suddenly cars spinning in all directions, Sutcliffe, Lewis, Jonsson, Purley and McInerney all ending up in trouble. Sutcliffe had broken engine mounts but soldiered onto the end, Purley was out with broken suspension as was Lewis, Moffett had a badly damaged front end and McInerney was out with engine maladies. All this confusion meant that Vandervell had a comfortable lead from Hunt, Thompson, Svensson and Andersson. As Vandervell increased his lead, Thompson, Hunt, Svensson and Andersson were involved in a furious dispute over second place. Next up were Radmyr, Persson, Johnson (minus nosecone) and Dolhem. Things remained fairly static until lap 26 when Hunt spun off at Fisherman's with a repeat of the broken wishbone that had afflicted McInerney. At the finish Vandervell won from Thompson, Andersson and Svensson. Aggregate winner of course was Vandervell from Svensson, Andersson and Thompson.
Race Report: Kirkistown, 24 July 1971