Race Report: Croft, 12 August 1973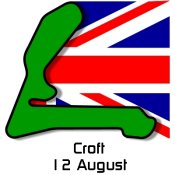 Only eight cars started this Forward Trust round after Richard Robarts crashed his Myson March at Oxo during practice. Mo Harness took pole position just ahead of Tony Brise and Mike Wilds for an all March front row.
Ian Taylor made the best start to lead from the second row followed by Wilds, Brise, Harness, Tony Rouff and Derek Lawrence. Brise and Harness swopped places a couple of times and by the fourth lap the four leaders had pulled away from the rest. Wilds was putting Taylor under increasing pressure and nearly made it at Tower on lap 5 and then on lap 6 he did the job properly. Taylor spent the remaining nine laps trying to regain the lead but Wilds kept him at bay to win by a second. Brise passed Harness for third on lap 9 and although Harness crossed the line level with Brise and was given the same time Brise took the third place. Derek Lawrence also had a great battle with Tony Rouff with the American coming through to take fifth by a second.
Race Report: Croft, 12 August 1973