Race Report: Albi, 17 September 1973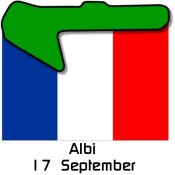 This was a round of the French F3 Championship and was a supporting race for the European F2 Championship event.
Michel Leclere led the way from pole position in his Alpine-Renault with the two works BP Martinis of Jacques Lafitte and Jean-Pierre Paoli in close attendance with the Motul Martini of Christian Ethuin in fourth. Ethuin worked his way up to take the lead from Leclere but the Alpine driver fought back to take the lead again and when Ethuin had a moment and dropped away his victory was secure. Lafitte and Paoli took second and third places at the finish, Pierre-Francois Rousselot had been running with Lafitte but he too dropped back.
Race Report: Albi, 17 September 1973