Race Report: Thruxton, 27 October 1974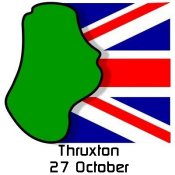 This was the final round of the Forward Trust Championship and at the end of practice it was Sweden's Conny Andersson who took pole position in his March 743 Toyota by 0.2 seconds from the similar car of Brian Henton. Gunnar Nilsson, despite heavy understeer and the wrong gear ratios, completed the front row to give all three slots to the March/Toyota combination. Mike Tyrrell should have been on the second row but his engine broke a cam after a handful of laps, also having problems was Danny Sullivan who was trying some new Goodyears which were breaking up after two laps. Dick Parsons found his practice ruined by a troublesome clutch whilst José Espirito Santo wasn't feeling too well and so decided to scratch from the race.
Gunnar Nilsson made a great start and had already opened out a gap by the complex on lap 1 but further round the back of the circuit the Swede showed his inexperience by trying to go too quickly on tyres that hadn't come up to working temperature. The resultant spin saw a very chagrined Swede drop to the back of the field. This left Henton leading from Andersson with a gap back to Sullivan, Marcos Moraes, Jose Chateaubriand, Tony Rouff, Nick von Preussen and the rest. By lap two gaps were beginning to appear as Henton pulled away from Andersson who had increased his lead over Sullivan who had begun to drop Chateaubriand. Meanwhile Moraes car began to misfire and he seemed to be holding up von Preussen.
Lap 4 saw the first three seemingly secure whilst Chateaubriand and Rouff were fighting over fourth with von Preussen and Parsons disputing sixth after Moraes had retired with overheating. Rouff got ahead of Chateaubriand who then came under pressure from von Preussen and as the Brazilian entered the chicane on the last lap he lost the works March in a big way hitting the Armco hard and badly damaging the car.
This left Henton to take a comfortable win by just over two seconds from Andersson who was a long way ahead of Sullivan and Rouff. Gunnar Nilsson recovered to take a disappointed seventh after his first lap mistake, he said afterwards "In fifth gear with cold tyres there was no way I could get round!".
Race Report: Thruxton, 27 October 1974